Garden Memberships

With Garden memberships, our highest-level membership, your support of The Talking Farm includes receiving a weekly box of Skokie-grown vegetables along with a host of other benefits. 
You can pick up your weekly box at the Howard Street Farm (3669 Howard St. Skokie) on Wednesdays nights or Thursday mornings and Evanston Lands (2504 Gross Point Road, Evanston) on Thursday afternoons. (We'll reach out to you after sign-up to set your pickup site.)
Pick-up hours
Wednesdays 5 – 7 pm at the Howard Street Farm
Thursdays from 8:30 am – 1 pm at the Howard Street Farm
Thursdays from 4-6 pm at Evanston Lands
For $350, Garden memberships provide the following benefits:
A box of fresh, locally-grown produce once a week for 10 weeks ($32.50/week)
Free Talking Farm branded market tote for your produce
20% discount at our farmers' market stands and our online weekly Pick Your Own Basket Market
20% discount on seedlings during our May seedling sales
20% discount event tickets, including The Singing Farm Concert Series
Free Garden membership-only BBQ picnic at the end of the season at the Howard Street Farm
$200 of the garden membership is tax-deductible
Garden 1 — SOLD OUT FOR 2021!
All Garden1 membership farm boxes may include a selection of greens (lettuce, arugula, kale, Swiss chard, mixed salad greens), root crops (radish, beets, carrots, turnips), and summer crops (zucchini, summer squash, eggplant, garlic, tomatoes), plus beans, onions, leeks, kohlrabi, peas, tomatoes, and/or garlic scapes. All vegetables are grown at the Howard Street Farm in Skokie.
Start Dates: June 9th or 10th (depending on your pickup site)
End Dates: August 11th or 12th (depending on your pickup site)
If you are picking up at the Howard Street Farm, you may pick up on Wednesday from 5-7 pm or Thursday from 8:30 am to 1 pm. If you are picking up at Evanston Lands, you may pick up your share on Thursdays from 4-6 pm. 
SOLD OUT FOR 2021!
Garden 2
Garden 2 membership farm boxes show off the bounty of the summer with colorful vegetables like yellow summer squash, red peppers, red and orange tomatoes, and purple eggplant. Towards the end of the season, farm boxes feature an abundance of greens like Swiss chard, kale, arugula, and salad mixes, along with root vegetables like carrots, onions, beets, leeks, and much more! All vegetables are grown at the Howard Street Farm in Skokie.
Dates: Mid-August to Mid-October
Space is limited, so sign up early!
Flower Subscriptions — Available Now!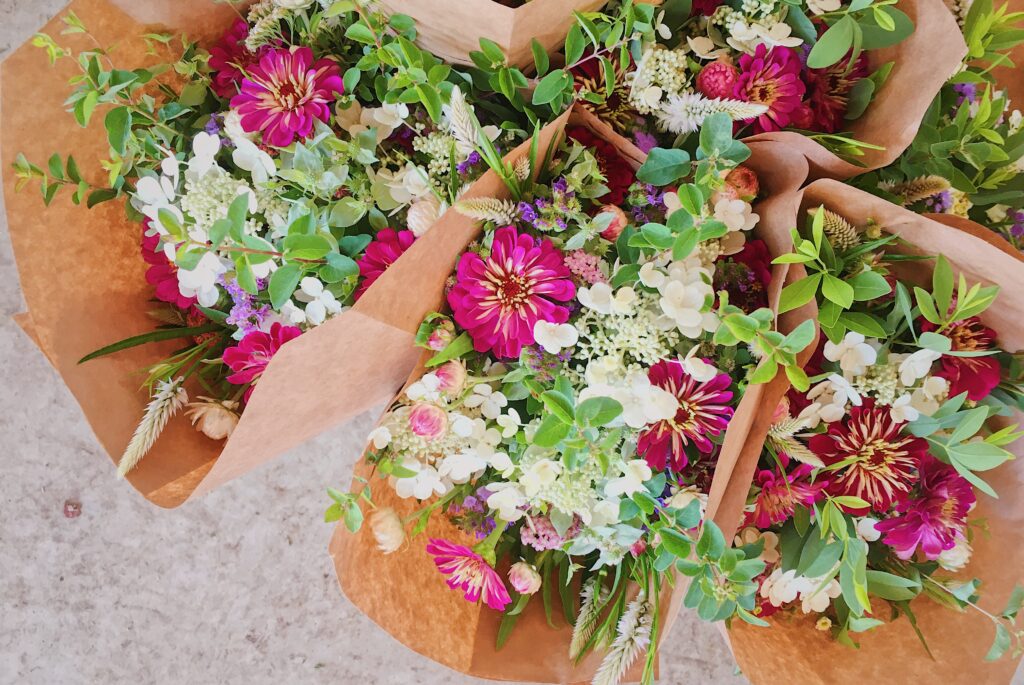 The Talking Farm is pleased to partner with local flower grower Evanston Lands to offer a brand-new flower subscription. Bring nature inside and a smile to your (or a loved one's) face with fresh flowers that are 100% grown at our and Evanston Lands' local farms.
Each subscription includes a series of six wrapped flower bouquets containing at least 25 stems of seasonal and premium varieties like ranunculus, lisianthus, poppies, dahlias, specialty zinnias, cosmos, and petite sunflowers. Every week's bouquet will be professionally designed and arranged by Jennifer Lieb of Evanston Lands. 
If you haven't heard of them, Evanston Lands grows over 50 varieties of cut flowers locally and donates a portion of their profits to organizations that lift and support our community.
We are offering subscriptions for 2 six-week sessions of weekly bouquets. Each session reflects the changing seasons of flowers and overlaps with the two Garden membership sessions, making it easy to pick up your weekly veggie share and flowers all at once. 
Sessions and Pickups
Flower 1: May 26-July 1
Flower 2: August 4-September 8
Pickup in Skokie (Howard Street Farm Wednesday PM or Thursday AM) or Evanston (Evanston Lands Thursday PM)
Quantities are limited to only 20 shares per 6-week session. An early-bird discount is available to people who enroll by March 15th – so sign up now with the buttons below. *UPDATE: Flower 1 is almost sold out so don't wait!
Egg Shares — Available Now!
We are partnering with Finn's Ranch to offer weekly shares of farm-fresh, free-range eggs. Each egg share gives you a dozen eggs per week for 10 weeks and runs concurrently with our Garden shares. 
If you haven't already met them at one of the local farmers' markets, Finn's Ranch is a family farm based in Buchanan, a small town in southwestern Michigan. Finn's Ranch's "Happy Chicken Eggs" are from free-range, pasture-raised chickens that feed on grubs they get from outside as well as non-GMO feed, providing tasty, sustainably-raised eggs.
Pick-up is at the same locations and times as our Garden memberships (we'll contact you after signing up to set your pick-up location).